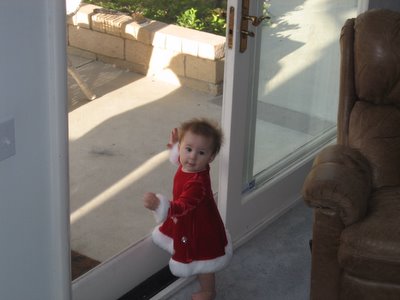 With all the family in town, the Kaiser and I actually had an opportunity to go together to Princess Peanut's 9-month well check. Together and without Count Waffles. Wow.
Anyway, at some point during the visit my God-like pediatrician (go ahead and click that…she writes and serves as an expert for Parenting Magazine, head of peds at UCLA, writes books, etc.) asks us if the Peanut is our "caboose" child, or if we will grace her practice with more royal children.
I hate this question. I hate it almost as much as "so, what do you do?"
I always hesitate answering someone, waiting to see what the Kaiser says. I don't know why. I KNOW what he will say. Its an emphatic "yes" on his part. He's done. This is it. Two kids. Finished. Over. He has extremely practical, logical, and well thought out reasons to back up his position. Solid reasons. Not really arguable reasons.
And let's face facts here, I'm pretty much with him. I can barely hold this royal kingdom together as it is. I can barely keep the dishes from piling up in the sink, laundry clean, small people fed, hair combed, etc. The thought of adding another boob-sucker to this train wreck is clearly insane. Clearly.
So how come, now that the Kaiser is scheduling his vasectomy, am I totally, 100%, sure I want a third child? Clearly we cannot afford a third child. College, diapers, what not. Clearly two is more than I can handle on a good day around here. Clearly both my pregnancies sucked ass. Clearly I was miserable while pregnant. And I am not kidding you, when I say I just had to get up from this computer and tear my two children apart while they both screamed at the top of their lungs. Its as if Saint Anne herself is telling me two is plenty.
Maybe its because the doctor told me I am only capable of carrying one more child. Maybe its because I'm only 31. Maybe its because I have hopes I'll get this two-kid thing under control soon and three will seem like fun.
Whatever the reason, I'm clearly insane. But that chubby, yummy, 9-month photo of Princess Peanut up there makes me want to make sure there is always a chubby, yummy, baby around these parts.
Always.