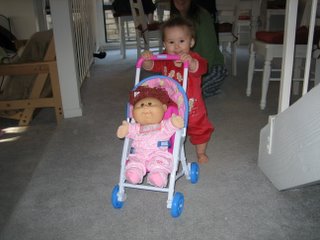 Don't fuck with me. I really can't be more clear than that.
I dropped off Count Waffles at nursery school this morning and made my usual stop at Starbucks. I now have enough gift cards to keep me in latte's until St. Patrick's Day.
With Princess Peanut on my hip I ordered my nonfat (dieting, again.ug.) vanilla latte and stood and waiting for the barista-whatever they call them to steam the milk with the steamy-thingy thing.
"Oooooh what a cute baby!"
"Thanks."
"…but, oh. Wow. Sorry about her hair."
It was if time stood still and you could actually see my hormones stand straight up. Here is where I should probably mention my period is back. Yes, I'm still nursing around the clock, but my body doesn't seem to concern itself with such matters. I should probably also mention these first few periods I've been a little, um…lets just call them "hormonal."
"Excuse me??? Maybe you should be more concerned with your hair."
Now, there was really nothing wrong with this person's hair. I just couldn't think of any other comeback.
Laughing, "oh, you have to admit, that baby has unfortunate hair!"
Between you and I, yes…Princess Peanut has hilarious hair. We laugh about it all the time. With friends we laugh. With family we laugh. We even take pictures and laugh. But I'll be damned if strangers in Starbucks can laugh. Out loud. In public. At my child's expense.
I have no idea why I didn't just laugh along with this woman. I have no idea why I got defensive. I have no idea why I felt the need to defend my daughter's honor. Oh, wait…yes I do. I have my period.
"Unfortunate? Unfortunate? I think you are unfortunate."
Oh. My. God. Did I just say that? I'm worse than my 2-year-old right now. I might as well have just called her a doodyhead.
To her credit, the woman was still laughing. We are now, very awkwardly, waiting for the coffeemaker guy to make the freaking coffee. Waiting. Waiting.
My nonfat latte comes first. I grab it in a huff.
"I'm sure her hair will lay down in a few months!" I hear as I walk out the door.
I'm shaking and shaking my head. I just keep walking. I want to run back and scream at this woman. It doesn't seem to matter that she's right. It doesn't seem to matter that its obvious to everyone my daughter's hair is sticking straight up. And its an adorable sticking straight up, I might add. But its up, non the less.
So my monthly bill is back. And I say "monthly bill" because it reminds me of Pretty in Pink-*nope! 16 Candles!* and the sister clutching the pillow getting ready to marry the beu-hunk. And that makes me laugh. And apparently I need to lighten up a little.