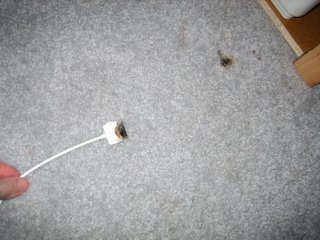 That's a melted Ipod firewire cord.
That's a burn mark on my carpet.
There were fumes that made me dizzy.
There were raised voices…Panicking when we couldn't figure out where said fumes were coming from.
There was a tragic house fire around the corner from us just a few weeks ago.
This all happened just before we went to bed.
Being me, I wanted to unplug anything remotely flammable for the rest of our lives.
I then confided in the Kaiser it's possible I have more anxiety than a normal person and should maybe call a doctor.
This feeling of wanting to keep everyone you love, safe forever…The mother part, is making me crazy. If I could just control the universe I think, maybe then, I'd be able to sleep.