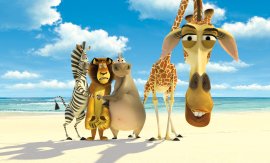 We're on day three of All Madagascar, ALL THE TIME.
Make it fucking stop.
Someone come over here and rip it out of my DVD player. Because, apparently, I am powerless against the toddler.
"Mommy! My NEW movie! Oh! It's my BEST! I love it very, very much!"
Alison over at Aliblog had a great post on Toddler OCD a while back. And since my brain is mush from too many Count dance party's to "I like to move it, move it," sung by a lemur, she may have more insight than I do.
So far, Madagascar has taught Count Waffles that the word "underwear" is freaking hilarious.
Underwear! HAHAHAHAHAHAHA
What did you say?
UNDERWEAR! HAHAHAHAHAHAHA
underwear????
Yes Mommy. UNDERWEAR!!!! HAHAHAHAHAHAHAHAHAHA!
But it's also brought out that really fun toddler trait of questioning everything.
Mommy, Why did those penguins just fly? Penguins don't fly.
Mommy? What did he do? Did he bite his butt??
Mommy are they in a boat? Oh, is that a big boat??
Mommy do I loooove this new movie my best?
I can't really tell you if this movie is any good. I'm numb to it. All I know is when the lemur sings, I am required to get up from where ever I may be sitting and shake my ass.