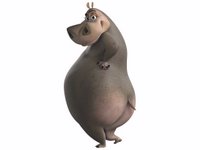 I have not forgotten about the Order of Saint Anne contest this month, I swear. Instead I was thinking we'll make it a Hippo Diet incentive. Most lbs. lost gets a mug and April's slot as Annie's Knight.
At last check, about 10 of you were game for starting the Queen's Hippo weight loss program. Here we go!
Diets (of any kind) start on Monday. I will keep track of participant's weight loss via email at queenofspainblog@yahoo.com. Personally, I'll be doing Weight Watchers, but you do whatever works for you.
I'll keep a post of progress going at least weekly and more if the competition really heats up.
I'd like everyone to post a before photo on their blog on Monday. You don't need to post your weight, just email me with what you lost weekly. I know. I know. But I will do it too, and we'll have a record of our fat, hippo asses as incentive.
Tell your friends. The more we all band together on this, the more we can support eachother. Bathingsuit season is around the corner people. If we start now, we may not all have to wear those grandma skirts at the beach.
Come on HIPPOS! Let's do it!!!
p.s. I'm at BlogHer today