They took me down. All of them. Bastards.
Everyone in this house has been sick and I managed to avoid the spew for a good 10 days.
But not anymore.
Despite my flu shot in October, I have the flu. I think a truck running over me would be an improvement at this point.
SlushTurtle wrote to say us Hippo Dieters should post some good recipes to share. Today might be a good day to do that, since I'm not feeling very bloggy.
So while you guys talk about food, here are some photos to ponder…
if you talk about how your daughter's hair is finally laying down…it will, inevitably, stand up again.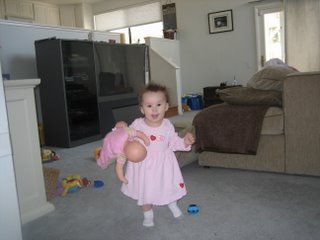 Your husband will bake, for the first time ever, the week you start your diet.