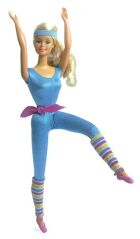 I have a confession. And once again, it's going to kick me out of the feminist club. (I get kicked out of there a lot, don't I?)
Barbie doesn't bother me.
She never has.
I agree her proportions are totally ridiculous. I agree she's not normal. Her tits are too big. Her waist is too small.
But here is my big secret:
None of that EVER occurred to me as a young girl. Not once.
She was simply a doll. And I got her naked and cut her hair and took her head off.
I write all of this because my uber-conservative sister-in-law just wrote me to ask that I not send my niece any "Barbies, Ariels, Belle's, or Mulans" for her upcoming birthday. She says it's "because of the message they send."
The Disney girls all pissed off their parents. Barbie…I dunno??? She has a career??? She dumped Ken-who had no dick anyway??
My question is this…are we over analyzing everything these days? I certainly don't want my daughter growing up with any body issues. And I don't want to contribute to them with a super skinny, big boobed barbie doll.
But…is it really just a doll, and are the only ones noticing the tits and waist us???
I'm at BlogHer today!