I've touched on this subject briefly, but I've been asked to expand…so here goes:
Cheerleaders can suck it.
I realize I can be a total girly-girl when I want too. I like pink. I wear it (oh, the horror!) I make the Princess wear it. I am teased endlessly by Sarah, Gabe, and the Kaiser for my need to have rhinestone shoes, clothes, purses, etc. They will tell you it's "bedazzled" but I know better.
I like leopard print. Boas. Hats. Gloves. Anything that makes me feel like I need a martini in one had, one of those long cigarettes in another, and a silk robe with pink, fuzzy, high heeled slippers.
Tiaras are for everyday wear. And if I could pull off saying "Daaaah-ling" without sounding like a bad actress, I'd say it daily.
Now that all of that is out in the open, I can also say, without hesitation…I fucking hate cheerleaders. And if the Princess decides to join cheerleading, I'll die. Die. Right there on the spot.
I don't so much hate every girl that is a cheerleader. I have some friends that dabbled. But you see, I was a basketball player. And as a basketball player (4 year starter on varsity in high school, then I just got high in college and forgot to play) cheerleaders are my sworn, mortal enemy.
So I'm really afraid that Princess Peanut will inherit my love of all things girly, and skip my equal love of sports.
So I'm trying, in my own way, to make her aware that girls kick ass on the field and on the court, and playing with a dollhouse. This weekend's attempt at brainwashing included dressing her in her pink Los Angeles Dodgers PJ's with a pink Detroit Pistons hat.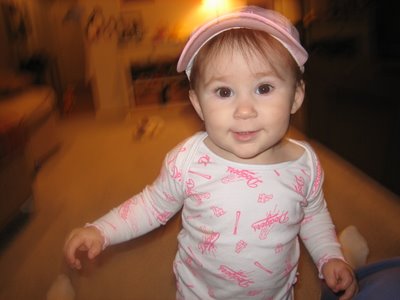 I don't know why, but it totally made me feel like I was succeeding in starting her off right.
Now, some of you may argue (at your own peril) that cheerleading is, in fact, a sport. It might be, I don't know. I don't pay enough attention to it. Unless Bring it On counts. But as a young lass, I would do my hair for 45 minutes before a basketball game, and then intentionally "miss" a pass during warm ups to make sure a cheerleader got nailed in the face.
I would lobby our athletic director endlessly to kick the cheerleaders off our sidelines during games. We didn't need them. They got in the way. They were annoying, etc. And by my senior year, they only appeared during the playoffs. I was a forced to be reckoned with. And extremely annoying. I am sure the poor man gave in just to shut me up.
Of course, when I severely sprained an ankle my junior year (played in OT with tears in the tendons and everything-yeah, I'm hardcore) I got a cast.
A pink cast. With bows.
I'm not sure the root of my cheerleader hate. I think it is as old as time itself. Sport girl and Dance girl just don't get along. They use their hips to shake in front of crowd for "motivation"-I used mine to blockout some Amazon woman under the boards.
So if my little girl decides on pompons and spanky pants instead of a uniform and high tops…She'll be kidnapped and deprogrammed and forced to watch Hoosiers for 48 hours straight, eyes held open with tape if necessary.
Pink tape, of course.