Henceforth my children will be encased in bubble wrap.
The Queen's Palace shall be covered in down.
Anyone entering will relinquish all scissors, knives, keys, nail files, q-tips, makeup brushes, chapstick, and pointy hats. It will be much like LAX, except more strict. And with better food after you pass through security.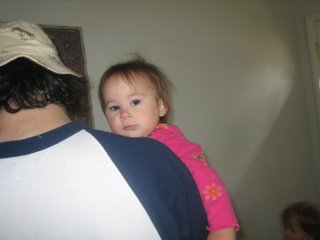 During my umpteenth trimming of my evergrowing vines, Princess Peanut Punk as Fuck, Heiress to the House of Noodle, grabbed the gardening shears (which had slid from my "secure" and "safe" location of the minivan hood to the ground) and nearly cut her cute, little, delicate, wedding ring finger to the bone. Just shy of bone, really.
An ER trip, a firefighter issued Teddy Bear, and enough Mommy Guilt to fill my pool- later, we've got one delicate little finger glued together, one traumatized 3-year-old, a relieved Daddy (who braved rush hour to get to the hospital, thinking the whole time his daughter would go through life minus one finger), a criticizing Uncle, a shell-shocked mother, and a 1-year-old who seems to be no worse for the wear.
So forgive me if all of your Blogher entries have not been read. The top three entries will be posted, starting tomorrow. The winner's post will be published on Friday.
Kicking things off tomorrow in the #3 spot (would that be the 2nd runner up? like if the winner AND 1st runner up dies, she wins???) is Sarah and the Goon Squad. She could have won, but really couldn't have won.
I'm off to kiss my daughter more.