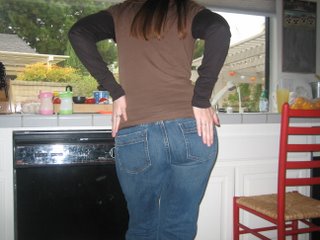 There are those moments in every woman's life that she never, ever forgets.
Her first date. Her first time (hopefully not on her first date). Her Wedding. The birth of her children.
And the day she finds the best jeans EVER invented.
I know what you are thinking. Why the hell does this woman keep showing us her ass??
Probably because I've never, ever liked my ass. I'm not asstacular. Don't get me wrong. Growing up in the 'burbs of Detroit, my bodonkadonk was always a, forgive me, asset. But despite my shape and curves, underneath my probably Guess (at the time) jeans, I had dimples. Bumps. Not like a baby's ass.
Much like I don't cry pretty…I also don't ass pretty. So when I find a product that actually makes my ass look not only three times smaller, but prettier…I'm telling the world.
If I were Oprah, I'd give you all Gap Curvy jeans. But the Kaiser keeps babbling something about "money" and "mortgage" and "gardener" and "blah blah blah." Anyway…I've named them "Magic Butt" jeans, and they are the greatest thing to happen to my closet since I bagged up all my maternity underwear.
Now, there was a time in my life I swore I would never, ever shop at the Gap. They were evil. I'm foggy on the details, but it had something to do with the environment and the Redwoods and cute boys with long dreads.
But I'm sacrificing those, as you can tell, extremely closely held beliefs in order to bring you what every mother who still has curves should wear. Magic. Butt. Jeans. I'm not kidding.
The Gap should pay me for this. They are not. But when you find something this good, you can't keep it inside.
Go to the Gap and try on their "curvy" line of jeans. Then go home, and let your significant other ravage you like you haven't been ravaged since you actually wore those Guess jeans back in '89.