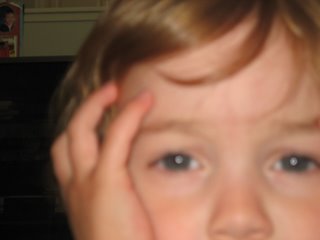 Believe everyone and everything anyone tells you about 2-year-olds being NOTHING compared to 3-year-olds.
They. Are. Right.
I just finished with bedtime stall session number 7. And I feel like sticking my head through this computer screen. All the way inside. Then lifting it up and running around with it around my neck while my hair burns and wires snap and pop. All while I scream "AAAAAAAAAAAAAAAAAAAAAAAAAAAAAAHHHHHHHHHHHHHHHHHHHHHHHHHH!"
My darling, lovable, sweet, innocent Count Waffles the Terrible is turning into OCD Toddler Who Can't Do Anything Unless It's BY HIMSELF. OR, NOT ALL ALONE. OR, WITH MOMMY. OR, NOT WITH PEANUT. OR WITH THE DOOR SHUT. OR OPEN.
He MUST be present and perched on the counter if you are cooking ANYTHING. If food appears and he has not witnessed it's exit from the fridge/pantry and cooking/plating all while ON THE COUNTER, it must be done all over again. If you do not do it ALL OVER AGAIN, he will cry until something else upsets him.
If he stumbles, trips, falls, or otherwise does any step incorrectly, anyone and everyone near him or walking/running/breathing with him must re-enact those steps (everyone in their exact places, please) so he can do it right. (this also applies to: getting into his carseat, climbing any park plaything, or getting on or off a couch.)
You may not walk up any stairs or down any stairs without him. If you leave before he does for a trip upstairs…you must come back down to do it again…with him.
He MUST be carried by Daddy to get the morning newspaper. He MUST have "blankies on his toes" in order to fall asleep.
If any person or persons touch/graze/accidentally bump ANY part of his body while he is "DOING IT BY HIMSELF" the entire process of whatever he is doing must start over. From the beginning. Congratulatory pats on butt or head, or a guiding hand that isn't helping COUNTS as touching and assistance to whatever task is being performed, and said task must begin again.
I could go on. I really, really could. But I'm too tired. So I'm going to bed. Which won't be easy with this computer screen stuck around my neck. NOTHING but Mommy's head is allowed to touch his pillow. The RED pillow. And it MUST have the opening facing left.
"AAAAAAAAAAAAAAAAAAAAHHHHHHHHHHHHHHHHHHHHHHHHHH!!"