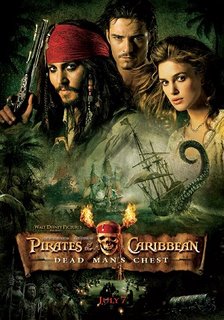 The Kaiser worked very hard on this film. And I am damn proud. DAMN proud.
Also looking forward to adding Johnny Depp the framed movie posters in our office. One for every film my man has a worked on.
That wheel/mill/fight shot??? All Kaiser baby. Didn't even know some of that was digital, did ya'???
Per AP via CNN:
LOS ANGELES, California (AP) — Johnny Depp's boozy, woozy buccaneer Jack Sparrow has plundered the box office, with "Pirates of the Caribbean: Dead Man's Chest" taking in a record $132 million in its first three days, according to studio estimates Sunday.
Disney's swashbuckling sequel sailed past the previous all-time best debut, 2002's "Spider-Man," which took in $114.8 million in its first weekend.
"Dead Man's Chest" also did nearly three times the business of its predecessor, "Pirates of the Caribbean: The Curse of the Black Pearl," which took in $46.6 million over opening weekend in 2003.
The sequel surpassed that total in its first day alone, taking in $55.5 million Friday to beat the previous single-day record of $50 million, set last year by "Star Wars: Episode III — Revenge of the Sith." With $44.7 million on Saturday, "Dead Man's Chest" also became the first movie to top $100 million in just two days.