…seriously, that is soooooooooooooo last week.
For those of you who missed it, here's what breastfeeding a 16-month old looks like.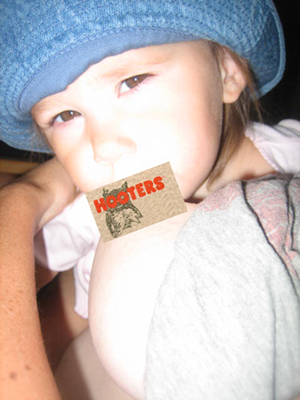 So apparently a bunch of tightwads have their panties in a bunch because BabyTalk Magazine used this on their cover: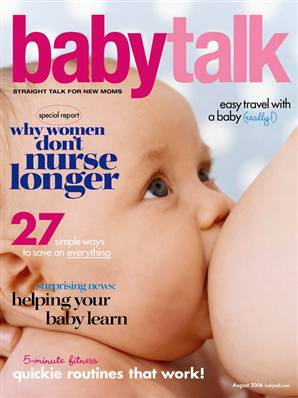 I hate to burst their bubbles, but…um…it's a boob. We ALL have them. They are for FOOD. For kids. That whole sex part? Secondary. And stupid, I might add.
So to all you beyoootches that don't like to see boob while it's being used as it was intended: Turn your fucking heads and shut the fuck up.
Your puritanical, unnatural, suppressed sexually, self-conscience, repulsive, and oppressed opinions on the matter are unwarranted, unsolicited, and ignorant.
Would you also like me to wear an apron while I serve my husband dinner? Maybe get him his slippers when he gets home and walk ten paces behind him in public? Should I also not be allowed to drive? Vote? Control my own reproduction? Feed my child in PUBLIC???
If your 13-year-old wants to jerk off to a BabyTalk magazine cover, maybe you need to hide the National Geographic as well. And to those of you who find it "Gross" and "shocking"-maybe you need to get out of your "don't make eye contact in elevators, shop at major mega stores, avoid the news" world a little more. Because I'll be out there. Feeding my kids. With my tit.
And if you don't like it, you can suck it.
***and I'm even more pissed because I had to see this story just an hour before leaving for BlogHer…you know, where they have daycare and a quiet room for breastfeeding and are PRO WOMAN. Not like the rest of the U.S. Where it's ok to get all upset about breastfeeding in a public way.