Crossposted at BlogHer.com
Remember this?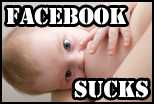 Back in the Fall of 2007 many in this community joined the fight against Facebook, more specifically Facebook's ban on photos of mother's breastfeeding their children.
We joined the protest group. We contributed to videos. We held a nurse-in. One of the main talking points throughout the campaign was the alleged inconsistencies in Facebook's Terms of Service. They appeared to allow pro-anorexia groups, and, as many of us pointed out, hate groups.
At the time a few media outlets picked up on the bru-ha-ha. Some notable bloggers joined in. Even TechCrunch had a short piece on the uproar (with, in my opinion, some of the most immature and sexist comments I've ever seen against women in one single post- "chicks and their milkbags" comes to mind). And then the ruckus died down.
Until now.
It seems the Facebook TOS issue has reared it's head in the form of the blogosphere taking note of the allowance of Holocaust Denial groups on the service.
Michael Arrington at TechCrunch writes, "Jew Haters Welcome At Facebook, As Long As They Aren't Lactating" much to the delight and surprise of some in the mommyblogging community. Ok, much to the delight and surprise of ME.
In fact, I was so shocked by the allegiance I twittered:
"Did the boys just figure out Facebook allows hate groups? the MOMS pointed this out years ago when they wouldn't allow bfeeding pics. lol"
Which then started a full scale discussion over on this thread at friendfeed.
Karoli ties the entire issue together citing very clearly that Facebook needs lessons in community management,
"Just amazing. It seems that on the Internet, there are still many males (I won't call them men) who don't have any respect for women, and have no problem demonstrating it on a daily basis.

This is bully behavior. When women are demeaned for breastfeeding or wanting to promote breastfeeding (which was the original purpose of the group) by men who fail to see the hypocrisy in Facebook's decision matrix around these two groups, they are being marginalized and bullied. It's wrong, but I'm not exactly sure what could be done to prevent and/or stop it.

Here's one idea: Let's see some of the mature, responsible members of this large universe called the Internet stand up not only against Holocaust deniers, but also for breastfeeding mothers. "
As a breastfeeding mother I want to see Facebook be consistent in the way it implements it's TOS. As someone disgusted by Holocaust denial groups, and other hate groups, I am appalled they are allowed to remain while photos of me feeding my daughter are removed.
Now that the "other half" of the blogosphere is having this discussion in depth, will we see any movement from Facebook? Will the "tech" bloggers continue to embrace the "mommyblog" causes when it involves a social networking service?
I can't wait to find out.
Contributing Editor Erin Kotecki Vest also blogs at Queen of Spain blog