I might be cooking dinner, or folding laundry (ha! my husband is cracking up right now) or even working on some of my own homework…but if I'm occupied that probably means the tv is on.
Sometimes I hear animated voices blasting from that square flat thing on our wall. Sometimes I hear music and video games. But most of the time I hear the "approved" channels at our house which basically include Disney, Disney jr., and Disney XD. Why? Because I can trust them. We have a level of trust Disney and I.
Not to compare the two, but currently this political Mamma signed a petition asking Nickelodeon to stop marketing junk food to kids. According to MomsRising, a 2012 study by the Center on Science and the Public Interest found that 69% of Nickelodeon food ads sell junk food to kids. This after Disney announced it will no longer accept advertisements for most unhealthy foods on its child-directed television, radio, and websites, and that it is updating its nutrition standards for marketing to children. See what I mean about trust?
That trust carried over as I got to chat with Leigh-Allyn Baker, she plays Mom Amy Duncan on Disney's "Good Luck Charlie" and understood entirely when I told her about the trust I give to her as she enters my home every day, entertaining my kids while I'm busy getting dinner ready or packing lunches. Leigh-Allyn isn't only a Mom on "Good Luck Charlie"- she also has two young boys at home.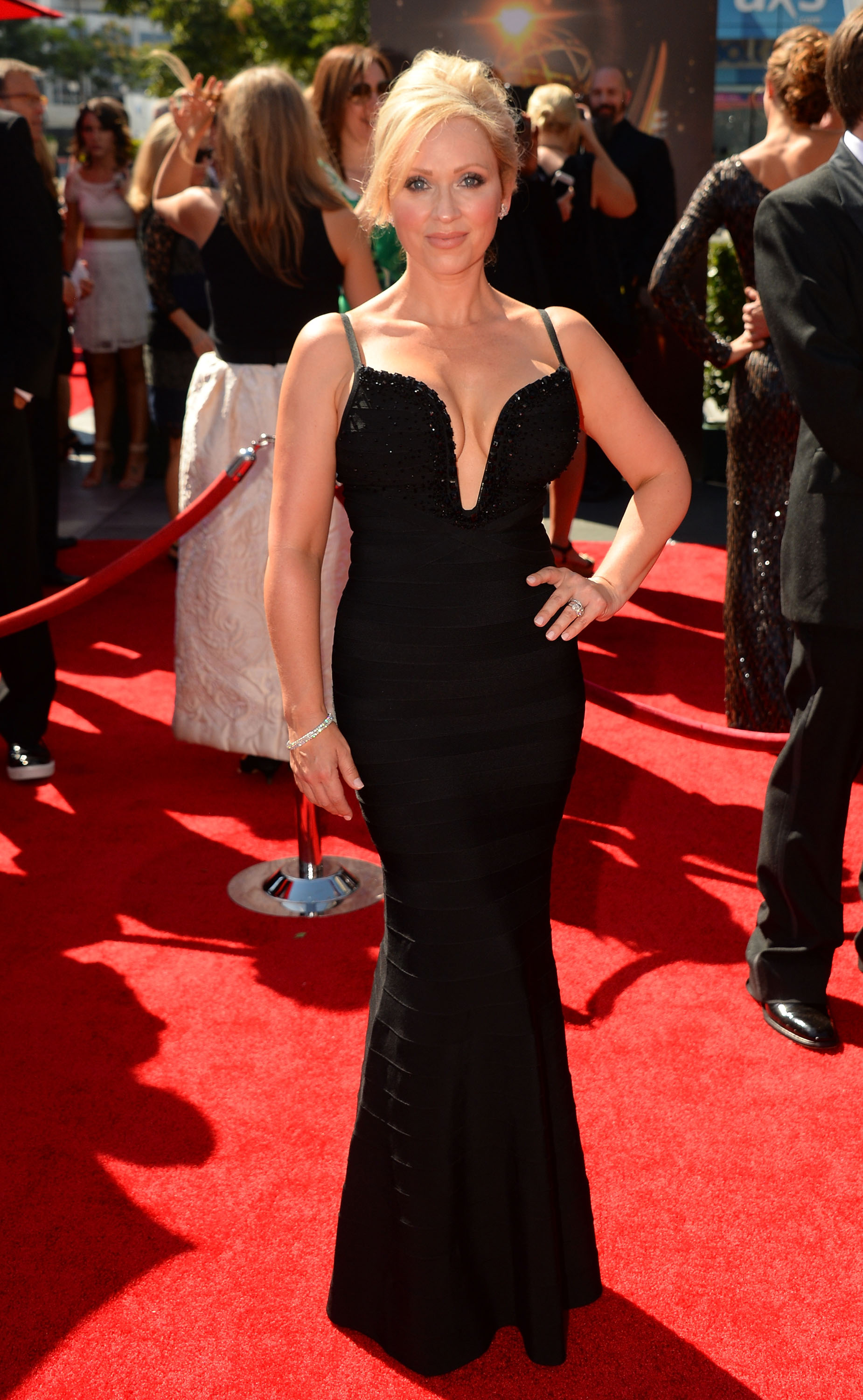 Photo Credit:  ©Mark Davis/Getty Images
We chatted about what most moms tend to chat about when given the opportunity: our kids. I went on and on about how mine adore her show, which just wrapped it's fourth and final season and asked how she does it all. I mean, I realize I have to battle Lupus with my treatments and doctors appointments and still attempt to raise the kids and what not…but this woman stars in a Disney show, directs, produces, just finished shooting a movie (she called it a cross between "Uncle Buck" and "Goonies"…how can you NOT love that?) and is raising two little boys.
We talked about that trust thing too. With former Disney star Miley Cyrus' Video Music Awards performance still on everyone's minds, and my admission to Leigh-Allyn that my daughter BELTS out her co-star Bridgit Mendler's songs ALL DAY LONG, it's hard out there for a parent. Even a Disney parent.
Leigh-Allyn was smart and sweet about it all though. First of all, she assured me that if there is any girl that you want your girls to look up to it's Bridgit Mendler. Hope she's right with that one, because my 8-year old has "Ready or Not" on replay on her iPod. She also made some great points about Miley Cyrus (whom she's worked with) when she said it's good for kids to see the consequences of their actions. She said the kids may see what happened on the VMAs (if they were allowed to watch) but they also need to see the aftermath. And don't get the two of us started on how the three grown men on stage escaped ridicule. But that's another post for another time.
Oh and that whole balance thing? I told Leigh-Allyn she should write a book next because she had some great advice there as well: she called it "No brainer parenting," where it did her no good to pine for her baby while at work or hold her baby while at home and worry about work, so she trained her brain to enjoy her life and live in that moment. It was key to making her work life and her home life successful. Total attention to her boys while at home and total attention to work while on the set. From that her children got to see a Mom who does what she loves and makes her happy.
Which is all we can really ask for, doing what we love and being happy, right? Which is just another reason to trust the Disney brand as it comes into my home through my TV or video games or books. I need to know they are looking out for my kids and sometimes, even me.
We're headed to Disneyland* this weekend for Halloweentime and there is already a lot of talk about Disney's upcoming "changes" to their Guest Assistance Cards for the disabled. I will be in my wheelchair. Getting those stares from people who look at me and wonder if I'm just lazy or if there really is something wrong with me. I can only trust the good in people.
I know many are very concerned about what the upcoming changes to the GAC means for parents of special needs children. This seems to be question #1 for Disney right now and many are already organizing change.org petitions, threatening to give up their annual passes, and generally throwing monster sized fits because their trips to the happiest place on earth will forever be ruined. The problem here is everyone seems to be working off rumors and speculation. Yes, the process is changing due to abuse of the system. So let's go with what we KNOW is true. This comes directly from Disney to me:
Disney has an unwavering commitment to making our experiences accessible to all Guests.
After careful consideration, we will be replacing the Guest Assistance Card with the new Disability Access Service Card on Oct. 9 to create a more consistent experience for all our Guests while providing accommodations for Guests with disabilities.
Until Oct. 9, we will continue to use Guest Assistance Cards. We look forward to sharing more information about the Disability Access Service Card as we get closer to implementation.
I think where the confusion came was it was originally only reported that the GAC was going away with no mention of the new system.
Frequently Asked Questions:

How will the new program work?
The Disability Access Service Card will offer Guests a return time for an attraction based on the current wait time. Guest Assistance Cards will continue to be in effectuntil Oct. 9. We look forward to sharing more information as we get closer to implementation. 

Did you ask for feedback in developing the Disability Access Service Card?
We are engaging disability groups, and Autism Speaks was instrumental in providing feedback as we developed this new process.

Why are you doing this?
Given the increasing volume of requests we receive for special access to our attractions, we are changing our process beginning Oct. 9 so that it creates a more consistent experience for all our Guests while providing accommodations for Guests with disabilities.

 

Who will be eligible for a Disability Access Service Card?

Our goal is to accommodate Guests who aren't able to wait in a conventional queue environment due to a disability (including non-apparent disabilities).

Will Guests on wish trips also use Disability Access Service Cards?
No. Guests who are visiting through wish-granting organizations will have access through a separate program. 

What should Guests do if they have concerns? 
Guests should contact Guest Relations to discuss their assistance needs.
Now…I want to highlight a few things up there because I think they are important. The part about "sharing more information" as it gets closer to implementation time. The Part about guests with concerns contacting guest relations with their assistance needs. The Part about making experiences accessible to ALL guests. That means ALL. That means, in my mind, they will have to find a way to make special needs parents happy. Will it be the same as it was? No. Do I expect Disney to leave a community out in the cold? No. I don't.
I trust.
I trust that when this entire program is rolled out there will be accommodations made for those who need it and no one will have to give up their happiest place on earth, their annual passes, or the only place they can take their special needs child.
I also trust that the place on this coast and the east coast that has been the ONLY place on earth to give my family respite from this hell of an illness, this never-ending IV, drug-laden, life changing disorder that has rocked our world will continue to be that respite, that very special place, that ONLY  place where we can forget real life for just awhile and be a normal, happy, family.
Maybe I'm naive to allow their very nice actress to call me to discuss motherhood and the show my children love to watch, while their spokesperson gives me their latest lines about how their new park cards will work for families like mine…but I don't think so. Not when you've felt the magic and wished upon the star and done all the things a mouse or cricket or even Princess told you to do, because if you did, it would all be ok.
I trust.
I hope I'm right.
*Disneyland has invited my family to experience the parks as it has for the past several Halloween celebrations as media.