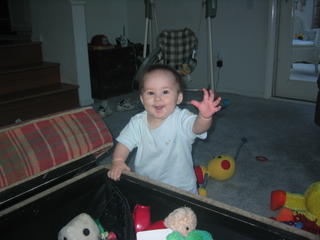 Tonight you got ahold of a pizza crust. You got a hold of it, and you wouldn't give it up. As you sat on the living room floor, dejected and ANGRY I took the crust away from you, a wave of panic came over me. PANIC.
I sincerely hope you never have to diet. I wish you your father's metabolism and ability to use and eat food as it was intended-nourishment.
May you never use food for comfort. Or out of boredom.
May a family member never call you one of the "bubblebutt sisters" in our rather round clan. May you never, ever have to go with me (like I did with my mother) to a Weight Watcher meeting.
May you always fit into the clothes in a boutique.
May you always look forward to bathingsuit shopping.
May you continue with athletics AFTER college.
May you find a wonderful partner that loves you even if you balloon up or slim down.
May you never, ever know what its like to suddenly realize you are not a thin girl anymore. And panic about what to do about it.
And know that I did not take that crust away from you because I'm worried about your weight. You are a fat, happy, healthy baby. As you should be. May I NEVER do anything to make you even blink about your self image. I took that crust away because you are only 6 months old. And I didn't want you to choke and die. Nothing more, nothing less. And while I also don't wish your brother weight problems, I know all too well that us girls seem to deal with that subject differently. So here's wishing its never a subject we deal with together.
As for your mother. The Queen. I'll always strive to give you a good example. I'll be healthy. I'll be fit. I'll never be fat again. For myself, but also..for you.
The Queen