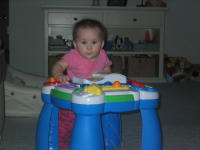 See this little girl? This one…right here…..She won't leave my arms. Not for a nap. Not to play. Not to see Daddy. Not so I can take a shit. She is FOREVER on me. And I'm getting a little frazzled.
If I lay her down. She wakes up. If I set her down awake, she screams her head off. If I, dear God no, leave the room…all hell breaks loose.
I know these tiny creatures go through phases. And she's obviously in one now. But I would really, really like to wipe my ass without her 7 month old 17lbs plus sack of potatoes on my lap.