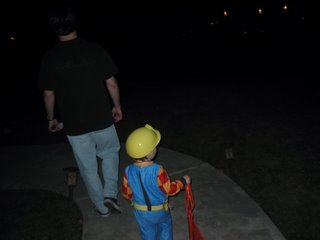 Count Waffles the Terrible used his imagination today and turned a lego bridge his father built for him into a gun. Typing that word hurt.
He does not have any toy guns. He does not watch any cartoons where anyone could or would use a gun, shoot a gun, or hell, I don't know…eat a gun. The last time I checked Dora was not popping a cap in Boot's ass.
Count Waffles used his lego gun to make "pfft pfft pfft" noises and shoot me. He said "I got you, Mamma" with a shit-eating grin on his face and ran away.
I, the Queen of Spain, proceeded to freak out.
"How does he even know how to do that? Did he learn that at school? What do we tell him? We tell him its not ok to shoot people, right? (as if the Kaiser was going to say-no honey, lets tell him it is ok to shoot people) How do we handle this? What should we do?" Etc. Etc. Etc for about, oh, 15 minutes too long.
"Calm down. Its fine. He's a boy. This is what they do. We discourage him from pretending to shoot at people. He's a boy, though. We all did this," the Kaiser answered casually while visions of the Count in a bell tower picking off students in letter sweaters played over and over in my head.
Lunatic Queen is quickly processing the face of every boy at nursery school who may or may not have taught her sweet sweet baby boy how to be a thug. Lunatic Queen wants to hunt down the director of said nursery school to ask just what sort of war games are going on during recess on her playground. Lunatic Queen is formulating a discussion with Count Waffles in her head on why guns are bad. Lunatic Queen is considering the stuffed toys in the ottoman–yes! They can role play! Elmo can pretend to shoot Jay Jay and…wait…
The Count begins singing along to the Gilmore Girls theme song. The Kaiser puts his head in his hands, rolling his eyes.
Crisis over.