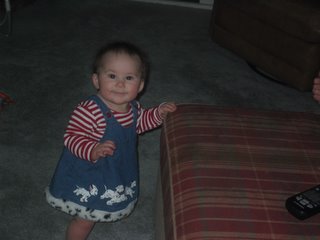 Princess Peanut is 8-months old on Wednesday. And despite my pleadings with her to slow down, she's very close to taking her first steps. I can prove it. I have video. Go ahead. Go click that highlighted part. I'll wait….
So now that you're back…WHAT THE HELL???? What am I going to do? I just now, 8-months later, felt like I was starting to get a handle on this two kid world.
I was just starting to actually be able to keep the house clean. And get dinner cooked, instead of ordered.
I was just learning to balance the whole –paying attention to one while occupying the other- thing. But the real kick in the ass is that I just was starting to feel like I might actually be good at this mother thing.
I get the feeling this new world of two kids running will send me into another tailspin that includes piles of dirty laundry, lego imprints on the bottom of my feet, and too many trips to get Happy Meals instead of healthy meals at the stove.
I need family, in particular some grandparents, to move their asses to California so I can get a little assistance here. Houseboy still holds her like she's a bomb. So he's no help.
The Kaiser just began another "crunch time" at work. Which means 12 hour days, 7 days a week for about 2 weeks. The holidays, and the gaggles of grandparents it will bring, really can't come soon enough.