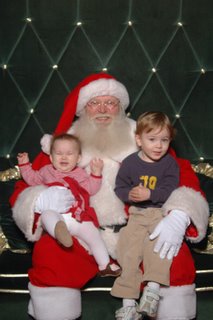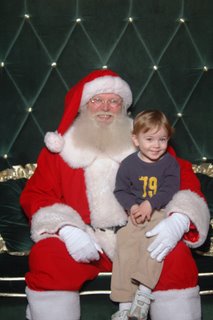 Gasping and panting I'm back from hell, er, I mean the mall.
One kid was thrilled to see Santa. The other, not so much. I have to admit, though, our mall has a really good Santa. That's a real beard.
Anyway, after the big red guy experience we headed up to the play area where I witnessed the mother of a maybe 12-14-month old smack her kid's hand-hard. His crime? He dropped his sippy cup. Then…get this…she says to the kid, "I forgive you."
Needless to say I was shocked, appalled, disgusted, etc., etc., etc. All I could do was stare her down with the stink eye. She was with a friend, and as they packed up their kids to leave I heard her say "…you just have to get used to stares like that. We actually discipline our children and we certainly don't nurse them at that age, in public…"
I had been nursing my 8-month old while all of this took place. And, for the record, my toddler was the most well behaved child in that play area by far. He was politely asking children if they would like to play with him. And saying "thank you" if they agreed.
Now, I am by no means a sit-down-and-take-it kind of girl. I'll argue you to the floor on my right to nurse in public. In fact, I had been dreaming of this moment for years…a chance to defend my breastfeeding rights.
But all I did was sit there. Dumbfounded. I hadn't planned on the attack coming from another mother. In a play area. In my family-oriented, California town. I thought this would happen back in Michigan. With a guy. Or at a restaurant. And all I did was sit there, speechless.
And by the time I realized what happened, they were gone. Dammit.