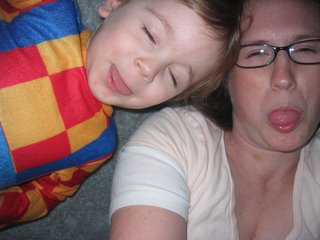 The Kaiser's family and I have a good relationship, but its a weird one. Some days it feels like we're making progress on being closer. Other days I feel like they are from another planet. The Kaiser normally just reminds me they (and this is important) are simply NOT LIKE MY FAMILY.

Admittedly, my family is a little weird too. Aren't they all though? My Mom and I talk every single day, sometimes several times a day. I can tell you exactly what my Aunt had for dinner yesterday because my mother talks to her every single day. My family knows everything. About everyone. And we all talk about it. All the time.
So imagine my shock and surprise when I got an email from my sister-in-law telling me she had just returned home. From the HOSPITAL. With my ONE YEAR OLD NEPHEW. After NEARLY A WEEK OF BEING THERE.
To quote John Stewart, "WWWWAAAAAAAAAAAAAAAAA?????????"
The Kaiser's brother and his family live in Germany. So I expect news to be slow here and there. I don't expect to know about every little sneeze. But when one of the kids, or ANYONE for that matter, ends up in a hospital…call me crazy but I expect someone to tell us.
So after a day of talking with my mother-in-law and my sister-in-law and getting up to date (pneumonia…he's better, etc.) and making it clear to everyone we'd really appreciate a phone call next time, I had a talk with the Kaiser about what went on.
Somehow I ended up being the crazy one.
It wasn't that big of a deal. And I got those looks from my husband that I always get when I'm all manic about something…you know, the ones where they look at you like you have six heads and there is fire shooting out of your mouth. He seemed to think if anyone was DYING they'd be more than fast to let us know. But since it wasn't a DEATH situation, I needed to chill out.
Granted, I was mad as hell yesterday. Mainly because this isn't the first time we've been left out of the loop for what I consider to be "call all immediate family" issues. So I was very animated about the whole thing. BUT COME ON. My mother-in-law basically said the same thing as the Kaiser, "it didn't seem like it was too bad." No. No. A one-year-old in a hospital for six days is a FUCKING party people. They just admit them for the sniffles.
Why was it ME who was getting the head shake and eye roll from my husband? At the end of the day I was the crazy, nosy, oversensitive bitch, who apparently got all riled up over nothing. And someone would have told us eventually, you know, if anyone DIED. Nevermind we look like assholes for not calling to check on him, or send a card or anything.
Can't wait for the holidays and my the families coming together. My mother will be asking my mother-in-law all sorts of questions about stupid things, like what they ate for dinner…and then I won't be alone when the heads start to shake and the eyes start to roll.