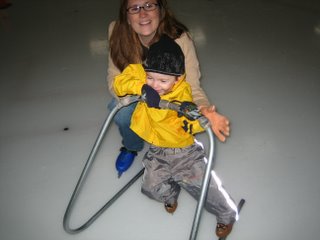 It started around Thanksgiving, I think. But I've been off the diet wagon. Ok, Ok, I'm not just off the wagon…I leapt off, ran to a pool of chocolate and mashed potatoes and threw myself in…then rolled around.
Here is my problem…I haven't gained any weight back yet. So I'm not feeling all that horrible about it…yet.
I still have 10 lbs to go to get to my pre Princess Peanut weight. (a slim, slim 130) But I'm back in my size 10's, eating, and happy and hovering around the 140 mark. AND the family is coming this week and it will be nothing but food, food, and more food until 2006.
I WANT to get rid of the rest of the weight. I really, really, really do. I just don't want to work at it. Lazy, lazy, lazy me. But I'm going to hit that 9 months UP 9 months DOWN date with the Princess at the end of the month and I'm feeling the pressure to make sure all that pregnancy weight is gone for good.
I also feel guilty because I spent the money and re-upped with Weight Watchers and I haven't been going. Maybe I'll really buckle down after the holidays. Hopefully. No. No. I WILL buckle down. I WILL. And I'm going to keep telling myself that all the way to the holiday buffet.