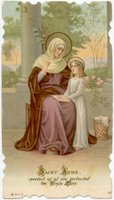 It appears many of you are not at liberty to post your crazy family stories on your blog to try and win a free shirt from the Queen Store. So, here is your revised challenge:
Post a photo or story that shows your family at its best, or at its worst. Same rules as below apply, but I will extend the deadline to January 1st, 2006 with the winner announced January 2nd, 2006. Crazy ass family stories are still welcome. But it might be easier for everyone to post sappy, happy, or inspiring photos or stories.
If you have already submitted an entry, feel free to change it or contact me if you no longer want it posted!
Have fun!