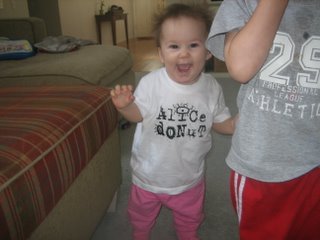 I have to call my crazy ass cousin today. I really don't want too. But I still haven't called her to thank her for sending my kids' a Christmas gift. Nevermind it came mid January…but I did say this was my crazy ass cousin.
One (of the many) reasons I dread calling her is because she's going to ask when I'm getting Princess Peanut's ears pierced. Or she'll ask why on earth I haven't done it yet.
Because I think its fucking stupid, that's why.
I'm not sure if it's a cultural thing. Or a regional thing. Or just a generation thing. But my family seems to think I'M THE CRAZY ONE for not have shot holes in my daughter's ears before she can talk.
I'll admit I think tiny little earrings on babies are cute. But not cute enough to risk infection, or tetanus, or the pain my daughter will endure (however briefly) for the sake of fashion. I'll just stick to dressing her up on leopard print and pink.
I don't give a shit if people think she's a boy. All babies seems gender non-specific to me.
But most of all, I don't care if every one of my cousins has done it to their daughters. I'm not trying to buck the system or anything. I'm not trying to make a statement. I just find it ridiculous.
And after last night's Super Bowl Dove commercial that had me in tears, I am CERTAINLY not going to force some sort of beauty ritual on her, before she's even old enough to know what the hell a beauty ritual is, anyway. She's got years to feel shitty about some aspect of herself and I'm not going to set the pace in her infancy.
What are we doing to our daughters? Is ear piercing any better or worse than me sticking her in a dress and tights? I'm certainly NOT going to put her in the little, teenie, tiny mini-mini skirt (that I swear would have half her diapered ass hanging out) that same cousin sent. I'm also not going to deny her if she asks 5 years from now to get those ears pierced. But I think that's the key here
…when she asks.
So I'm off to call my crazy ass cousin. I'm feeling the need to crank the PJ Harvey, or Sleater-Kinney, or maybe some Patti Smith…just 'cause.