I've tried very hard to change many things since I had a son. One of those things is my knack for saying "Boys are Stupid" whenever I'm on the phone with a friend and our husband's act like idiots.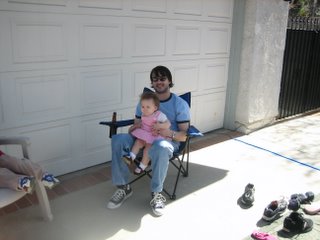 They act like idiots more than you'd think for two grown men. This trait is very endearing. And makes me laugh until my sides hurt most of the time. But other times, it's baffling.
For instance, it's taken Count Waffles all of two days to master saying "Smell the Love" after every. single. fart. He also gets his father's shit-eating grin when he does it. It's genetic, I guess.
But then, there are times I wonder how these men survive without us women.
Phone rings this morning not 5 minutes after the Kaiser left the house:
"Hello"
"Yeah. Hi."
"Hi."
"Can you, umm…send me an email at work?"
"Suuuuuuuuure. Why?"
"Can you remind me to put deodorant on?"
He can manage to clean the kitchen, fold the laundry, keep the kids happy, and make dinner all while I run to the store. But there are days he can't even remember to put on deodorant.
Yes, he is the kind of guy who forgets his sunglasses/ipod/keys/wallet often. You'll send him to the store for infant tylenol and paper towels and he'll come home with children's motrin and toilet paper. But the next time, he comes home with everything you asked, flowers, and bonus items you forgot you even needed.
So I'm trying really hard to curb saying "Boys are Stupid" because, obviously, I don't want to give the Count any sort of complex. But now I'm starting to wonder how I try and train the Count to NOT have the more annoying traits of being a boy.
Or is it just inevitable? Will he make inappropriate jokes and be forgetful? Can I somehow bottle the sense of humor, but tame it?
How do I turn this boy into a man who doesn't constantly forget doctor's appointments and ipods?
Or, is there something more sinister at work here.
Is it all my fault?
Is it because I take care of these men, small and large, to the extent they don't need to think?
Are Boys Stupid because we let them be stupid?
Are they just working us?
Am I being used?
Or do they really just not remember things like deodorant, for no other reason than they forgot.
Yeah, Kaiser's got some stinky pits today. And that was a very round-about way of me making sure the whole world knows the Kaiser has stinky pits.