…and I'm trying to get a post done over at BlogHer.
Why is it I am so PROUD my daughter can now wear a barrette? Is it some rite of passage? Some bizarre girl bonding thing? Or is it, simply, that it makes her hair seem less insane?
Whatever the reason, I love that I can stick things in her hair now. And I can't wait until the morning Daddy has to do it. That also excites me. I have no idea why. I just think Dad's doing daughter's hair is hilarious.
Does me liking her hair all girly girly ALSO kick me out of the feminist club? I feel like I keep getting kicked out of that club. I give her dolls to play with too. If you ask Princess Peanut to give her doll some milk, she holds it to her chest to nurse. Cracks me up every time.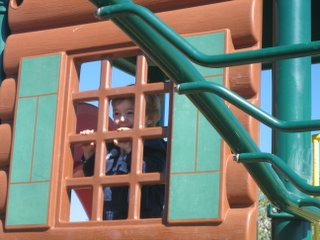 As for my little man, he's repeating phrases from Madagascar that include him spitting out apple juice and saying "Ziplock Fresh!"
Last night we read a book with a farmer, and animals on the farm. We moo'd. We quacked. Then they showed the farmer and Daddy taught him to say "Fricken' Frackin' subsidies." And you people wonder why I'm medicated.
p.s. Sarah has posted a very old picture of the Kaiser today that has me in tears. Go see my hot, hot husband.