If you have a park better than THIS one in our neighborhood, call me out. Because this park, smack dab on the Pacific, kicks your park's ASS. That's right, I'm still ass kicking.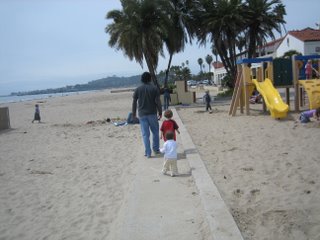 We went to Santa Barbara this weekend and had a ball. There is nothing like a good Santa Barbara outing to lift the spirits and get you happy. Except for the fact that Count Waffles the Terrible has a new alter ego: Captain No Pants.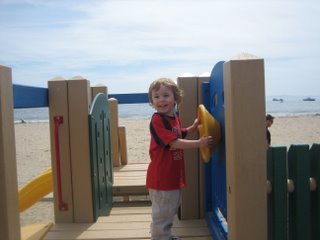 Potty training (which is going really well -knock on wood- by the way) means his pants are on and off…a lot. But he prefers them off. His sister follows suit and declare herself "Naaaa bababa!" which translates into NAKED BABY! Which must be said just like that…in a scream. You also need to throw your hands in the air.
Anyway, everyone has been naked around here a lot more lately. Which is great for potty training, but not so great when it's been the coldest and wettest spring in Southern California in recent memory.
So today, we're trying to go to playgroup…but Captain No Pants is refusing to put pants on. Much like this weekend when we wanted to leave for Santa Barbara and I couldn't get him to put pants on.
"Can't we go to the zoo with no pants, Mommy?"
Costumes, capes, hats…I can handle. But how the hell do I get out of the house when kids have NO PANTS???
I'm off to wrestle a 3-year-old now.