There are always challenges in breastfeeding. It's just a given. While the sucking of the boob and the giving of the boob to suck may be natural, it's still a "put Tab B in Slot A" situation and some bumps are bound to occur.
In following her tradition of being absolutely nothing like her brother, my darling daughter likes to bite.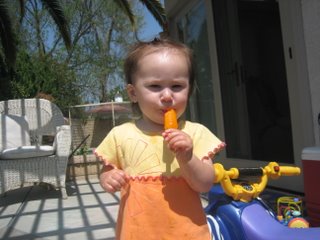 It took one loud yelp with the Count and he never showed his teeth again. HRH Princess Peanut thinks it's a game. A funny, funny game where Mommy yells loud and she laughs, and laughs, and laughs.
At first I was very gentle with her. I thought, like an idiot, that she would realize I was in pain and stop. Lately, on having to apply yet another coat of lanolin and/or neosporin to my nipple, I've gotten stern.
I need to clarify that when she bites, she is neither malicious nor devious. She really, really thinks we're playing.
I put on my Big Girl voice and tell my precious daughter "No! No biting Mommy!"
She giggles and goes for another nip.
"I SAID NO!"
Her face turns from the sweetest smile to the utmost of betrayals. Her bottom lip quivers, her eyes well up with tears, and she is wounded to the depths of her soul. Bluebirds fly to her shoulder to sing and console her. Butterflies shoot out of her ass. A halo appears over her head and a black pointy hat appears on mine, while a hairy mole grows on my chin.
The girl just isn't mean by nature. And despite the situation, she has no intention of hurting her beloved mother and can't possibly understand why I am using the tone of voice usually directed at her brother.
I feel an inch high when I yell at her. But I have bite marks and bruises on my nipples. Mostly on my right nipple. For some reason, she likes to try out her EIGHT teeth on that one nipple much more than the other.
Some of you may think this little one is pulling one over on me. But I swear to you, she's really doing the "I'm just a baby, I don't get it" thing. But this has been happening for the past few days, and I KNOW she's very smart-So it's got to click soon, right?
Or do I just want to believe she's innocent and sweet? So much so, that I'm letting her get away with it??
Maybe this is just one of those turning points. She's going from baby to toddler now, and I find myself beginning the real start of discipline with her. Lately she's been in trouble for standing on her ride-on Princess car. For pulling the cats' tails. For pulling her brother's hair. For climbing onto the couch and then climbing on it's arm and trying to stand. For stealing her brother's juice box straw and sticking it in the CD player. For eating rocks. For dismembering a snail. For trying to take knives from the dishwasher.
Hang on…I'm seeing a pattern here.
You'd think on my second child I'd catch on to the "testing us" thing earlier.
Hooray for blogging. But seriously, I'm happy to take suggestions on stopping the biting. It's not enough of an issue for me to wean, but my boobs have already been through enough here.