It occurred to me recently that my daughter is inheriting some of my…um…well known personality traits.
This child will not stop talking. This child will flash her breasts at strangers. This child will laugh in your face if you try to discipline her. She's knows she's smart. She knows she's cute. And she knows Daddy and Uncle Ronnie will give her whatever she wants. Aside from her brother, she has the men of the house wrapped.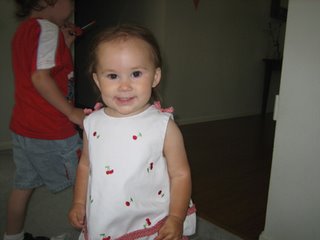 It's my worst fears come true.
She's me x 100. Cuter, stronger, smarter, better.
Now this can be a great thing for her. She will be terribly successful and independent. But she'll also drive her mother crazy in the process. Her father will just turn to alcohol at having to deal with not one Queen, but two. Poor guy.
And I am terrified the two of us will spend her teenage years shouting. I'm terrified she'll be so much like me, that we'll never get along. I want to give her advice on boys and clothes and life and love…but I know she will brush me off. Like I did my mother, who I am much more like than I care to admit.
I desperately want to be close to my children. For life. And I realize that closeness must come naturally. I can't force it. I also know that at times, they will want nothing to do with me. And I know it will kill me.
Why do I expect a certain relationship with my children? I fully understand they are their own people, with their own ideas. So why do I feel this need for things to be the way I expect them to be?
I see my daughter giggle at me and run away when I try for the 10th time today to wrestle her diaper on. And I see her 13 years from now, yelling and running away.
Oh, I hope it's still a giggle.