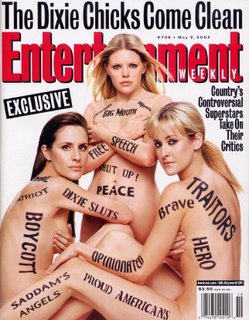 I'm not a country music fan.
Sure, I LOVE Pasty Cline and Loretta Lynn. A little Alison Krause.
But you can take your Toby Keith's and Garth Brooks, and those Dunn and Big and Richard and Rene Zellweger's Ex, and Nicole Kidman's Now and whomever else and stick them up your ass.
I remember all the "uproar" over the whole "We're ashamed Prez. W is from Texas" thing. But I didn't really get it. Apparently the Chicks were in trouble for opening their mouths.
I mean, so what? I live in Southern California. People say stuff like that ALL THE TIME.
Then the Dixie Chicks disappeared. Disappeared like…gone. Not the -Beyonce/Destiny's Child we're so overexposed we're going to pretend to be away for a few months then show up in the Super Bowl half time show- kind of disappear…but the Dixie Chicks were just, gone.
I didn't really care. I just noticed.
I thought they were ok. The Earl song was funny. Landslide was a good cover. But I wasn't rushing out to buy anything.
Then a few weeks ago, I ran across their new song "Not Ready to Make Nice." And heard the stories. The death threats. The boycott. The total dis from country music fans, musicians, etc.
I made a mental note.
Then a few days later I saw a story on CNN about the new single NOT getting airplay on country stations.
They were the butt of jokes last night at the Academy of Country Music Awards.
Apparently those View ladies got their panties in a wad because they weren't making that many public appearances.
…and something in my music listening tastes started to change.
Call me a country music fan. Because I have new and total respect for the Dixie Chicks.
And I'm going out to buy their new CD.
They are women speaking out. They are mothers speaking out.
Yeah, I can identify with that.