Well, at least 178 of them do:
"On Wednesday afternoon, the House had just voted, 412 to 0, to pass H. Res. 1113, 'Celebrating the role of mothers in the United States and supporting the goals and ideals of Mother's Day,' when Rep. Todd Tiahrt (R-Kan.), rose in protest.

'Mr. Speaker, I move to reconsider the vote,' he announced.

Rep. Kathy Castor (D-Fla.), who has two young daughters, moved to table Tiahrt's request, setting up a revote.

This time, 178 Republicans cast their votes against mothers."
They must have heard we've organized. They must have heard we're kicking ass and taking names.
They must have heard we've caught wind of what the ORIGINAL Mother's Day was all about:
Arise then…women of this day!
Arise, all women who have hearts!
Whether your baptism be of water or of tears!
Say firmly:

We will not have questions answered by irrelevant agencies,
Our husbands will not come to us, reeking with carnage,
For caresses and applause.
Our sons shall not be taken from us to unlearn
All that we have been able to teach them of charity, mercy and patience.
We, the women of one country,
Will be too tender of those of another country
To allow our sons to be trained to injure theirs.
-First Stanza of The Mother's Day Proclamation by Julia Ward Howe.
As part of the 'Dreams of Our Mother's" project over at MOMocrats I confess my dreams are being realized, as are my mother's. Not only do we have a voice, but we are making a difference. And we are just. getting. started.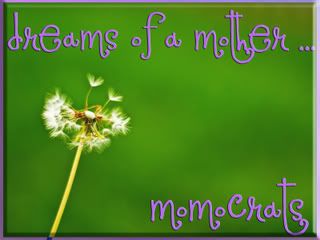 Which means my daughter, if she chooses to become a mother or not, will be even more empowered than
her
mother.
God Help You All.
Oh, and Rep. Todd Tiahrt, you are in luck. I'll be in Kansas in a few weeks. Can't wait to chat.