If there is one thing I have learned in this lifetime- it's that you never, ever, shoot off fireworks at home.
Ever.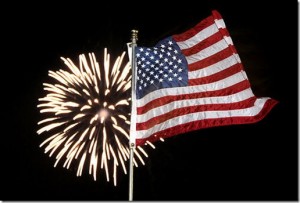 I'm sitting here struggling with the fact that I can't take my kids to the local fireworks show this year. Just 10 days post-op and there is no way I can sit in a lawn chair, or the back of the van, in a mall parking lot for hours on end waiting for the professional 'ooohs and aaaahs.'
But what are my alternatives? I spent too my years at my uncle's house as a kid where the drunken grown-ups would blast store-bought fireworks… frequently misfiring and landing them near us kids. I can vividly remember a bottle rocket landing near my short-short laden inner thigh as a tween. (btw, nice job Mom and Dad)
I've also spent too many years as a reporter, doing the yearly story at the fire station where they demonstrate what those store bought fireworks can do on some unsuspecting stuffed dummy.
Poof. Flames. And then the endless rattling off of stats of just how many ER visits and deaths shooting off your own fireworks cause.
So I sit here wondering how to give my kids a fun 4th of July while I can't even manage to sneeze or cough without cringing in pain.
Sparklers even seem like evil balls of fire.
I'd love your suggestions on how we can celebrate the 4th. My kids have seen the professional, local show every year since they were born… so I really would like to do something special. How do you celebrate at your house?