Someone is going to have to rent a storage unit when I die and move all my shit into it's sorry, cement walls because my husband does not know which candle in our house was used during our wedding.
Ok let me back up.
Everyone needs to stop, find those they love, and explain to them what they want when they die. This might be as simple as what to do with your jewelry, to what you would prefer happen to your children after you are gone.
Morbid, I know…but necessary, even if you are not facing a life threatening disease.
Which leads me to what I want, and how you all will need to force my husband to keep everything I own until it can be properly sorted, because he's going to throw away our wedding candle.
You see we have been having these important conversations and the other night I expressed to him that I didn't want him to throw anything of mine away. I mean, I don't want him to go all Hoarders on everyone, but that he needed to hold on to nearly everything so that when the kids are older and wiser they can sort through it all and decide what they would like.
This lead him to looking at me with that look he always gives me, the one that is half 'you are insane, woman' and half 'go on.. go on…because I'm going to totally make fun of you once you finish explaining.' THEN he proceeded to say something like 'that's crazy… I mean, like that candle over there, I'm totally throwing that out' … which lead me to screech something like 'YOU MEAN OUR WEDDING CANDLE??!!!!' which made his face drop slightly, realizing he had no clue that was our wedding candle and he was busted, before blubbering some nonsense about me having too many candles around the house and how the hell was he supposed to know…blah blah blah. Thus totally confirming my suspicions that I need a storage facility for all my things to be kept in after I die.
Is this all making sense yet?
Let me take another deep breath and try again.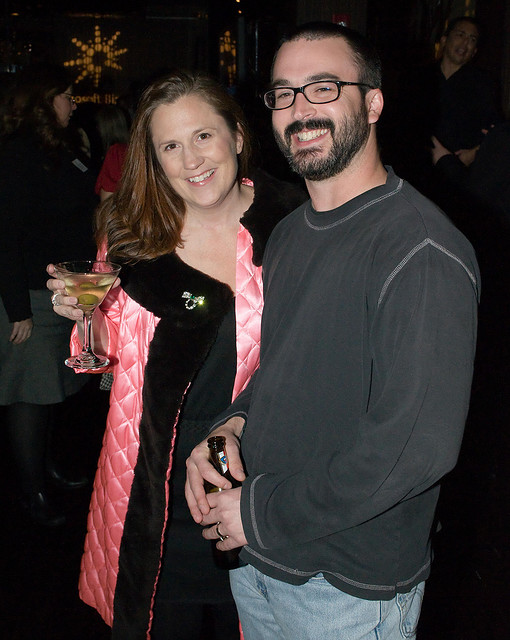 See that pink coat I am wearing in the photo above? I had been teasing my friend Gregg that I was going to will him that coat upon my death, because he got such a kick out of my purchase and subsequent flaunting of said coat. It amused him greatly that not only would I just up and buy an obnoxious, vintage, hot pink house coat with a faux fur collar and broach…but then wear it out to an event where he could snap photos of me in the monstrosity. It made him laugh. And it made him laugh even more that he could take that picture you see up there, complete with me drinking a dirty martini.
This morning I woke up to find out Gregg lost his battle with cancer.
Gregg who was supposed to be the one to take the obnoxious pink coat off my hands when it was my turn to leave this world.
My wedding candle sits on my dresser. The pink coat remains in my closet. And everyone needs to have these conversations, because sometimes you wake up and the whole world has changed.
Now I'm off to rent that storage facility…unless one of you promises to do it for me.
Gregg, I will miss the hell out of you my friend.