This has been siting on my desk, or shelf, or wherever in our bedroom for about three or four years now. Maybe two. I've lost track. Let's just say it's been around long enough to gather a ton of dust.
It's one of my favorite Disney quotes and one of my most hated. I'm a complicated woman like that. You know, the atheist that is currently wearing an Ave Maria medal blessed by Pope Francis. That's just how I roll when it comes to faith and miracles.
The entire quote/scene might help you a bit more:
"…Cinderella: The ball? Oh, but I'm not…
Fairy Godmother: Of course you are. But we'll have to hurry, because even miracles take a little time.
Cinderella: Miracles?
Fairy Godmother: Watch. What in the world did I do with that magic wand? I was sure I…
Cinderella: Magic wand?
Fairy Godmother: That's strange I always…
Cinderella: Why then, you must be… Fairy Godmother: Your Fairy Godmother?
Fairy Godmother: Of course. Where is that wand? I forgot…"
This entire scene comes as a crisis of faith for our poor Cinderella. Now mind you, Cinderella is not one of my favorite princesses. No offense. It was just never the story that stirred me much. I didn't have sisters, let alone step-sisters to relate. My parents didn't make me clean much more than my room.
Admittedly I would pretend my oatmeal was gruel and animals talked to me. But that was a skill a child could apply to any princess situation. Or little orphan Annie or wicked Queen has me locked up or Jabba the Hut has me locked up or … you get the idea.
But that scene, the magical one where Cinderella is transformed, THAT part was always fun. And it comes just after our scatterbrained Fairy Godmother finds that wand.
During one weak moment, ok a few hundred weak moments, when feeling like my life has been robbed from me, the snow globe and quote gave me a reminder that maybe, just maybe, a miracle would happen to me.
I don't, particularly, deserve one in the grand scheme of things. Or need it.
Technically I'm not suffering from a terminal illness. So many others are. They need miracles.
I have a supportive family, even if they have suffered more than I have through this with their worry and fears.
I have a roof over my head, food in my stomach, and despite three hospital stays in the past however many weeks, they have been for, mostly, the luxury of making me comfortable. So while I may beg and plead with whatever entity I'm feeling aligned with that day to take away this illness, I realize how lucky I am. I do.
But all of that hasn't stopped me from wishing. I still wished. I STILL wish.
And haven't stopped since walking out of that stupid doctor's office over four years ago, with my kids and my father, with the word 'Lupus' slipping from my tongue and being texted to my husband. I watched my Dad turn white and learned my husband did the same, as the only thing they knew of this 'Lupus' at that point, was that it would kill me.
I was permanently put on steroids, oral and a very high dose on that day and haven't been off of them since. In fact you can now add Cushing's Disease to my very long list of disorders and ailments thanks to long term steroid use.
But yesterday, I got in the car after seeing the neurologist I met during my most recent hospital stay, with a new medication in my hand and hope. Hope for the first time in a really long time.
We have this goofy thing in my family. If Bob Seger's song 'Old Time Rock and Roll' comes on…well, you have no choice but to dance. It's the family's dance. It came from one of those weekends when we were bored and little, stuck at one of my Dad's hockey tournaments somewhere in Canada and they would always have these parties afterwards.
Somewhere, upstairs in every hockey rink, there was a room where they sold beer, hot chocolate, hot dogs, and cleared away the tables after the games were over to play some music and let everyone dance.
My brother would always run away screaming if it came on, knowing my Mom was coming for him to drag him out onto the dance floor. I would go willingly, knowing after a few beers my Dad would twirl me around and the four of us would laugh and dance and sing at the top of our lungs.
It was a rule. You had to do it. So if I brought a friend, or my brother did, or if a cousin tagged along…beware the Kotecki rule!
As I started the car, new medication slip in my hand…"…that kind of music just soothes my soul. I reminisce about the days of old…with that old time rock and roll…"
And I danced and hopped around in the car. I didn't change the station, or call my husband, or text my parents. I sat in a parking lot in Encino, California and danced and sang like a lunatic until the next song came on. I actually worked up a sweat.
Part of these auto-immune disorders for me is vasculitis. This medication is going to calm my blood vessels. My rheumatologist thinks it's the missing piece to the puzzle and the neurologist told me the journey ends here. She's sure it will work to change my quality of life. It should keep the TIAs at bay, while simultaneously bringing me some relief all over my body as my blood vessels swell and contract causing me widespread pain.
By this time next year, I may be on this and my Rituxan infusion, which comes every four months. The doctors are working together and believe should all go well, this is a real goal-Attainable and not false hope.
We're also looking at gastric bypass in Cushing's patients to speed up the process of my potato like frame. Losing weight will only help reach the goal faster, but it has been all but impossible for me while I'm still on oral steroids daily and occasionally have to get them via IV or shot. My body refuses to let go of the fat while on a steroid.
Understand I wanted to tell everyone the minute I left the office, but also needed a moment to myself. This is the first honest glimmer of hope I have had to find my way back to my LIFE in a very long time. I'm still not sure it's real. I'm afraid to celebrate but want to, desperately. I'm afraid to tell you out loud, fearing I will be told by someone I'm crazy to think this will make that big of a difference and or they too were told by their doctor this might help and it didn't or … well, you get the idea.
I don't want to excite the kids that I may get to my goal of walking a Disney park and not needing a scooter.
I don't want to excite my husband and prime caretaker that he may have a wife again, not a shell of a woman who looks somewhat like his wife but is really just an ill person in need of constant care.
I don't want to excite my parents & brother, who have supported me through this ordeal and the rest of our family, including inlaws, all having seen the life-changing affects in one way or another. Helping in one way or another for so very many years now.
I just want to keep dancing in the car, having received what I  believe to be my miracle. So much so I sprinkled glitter on it last night.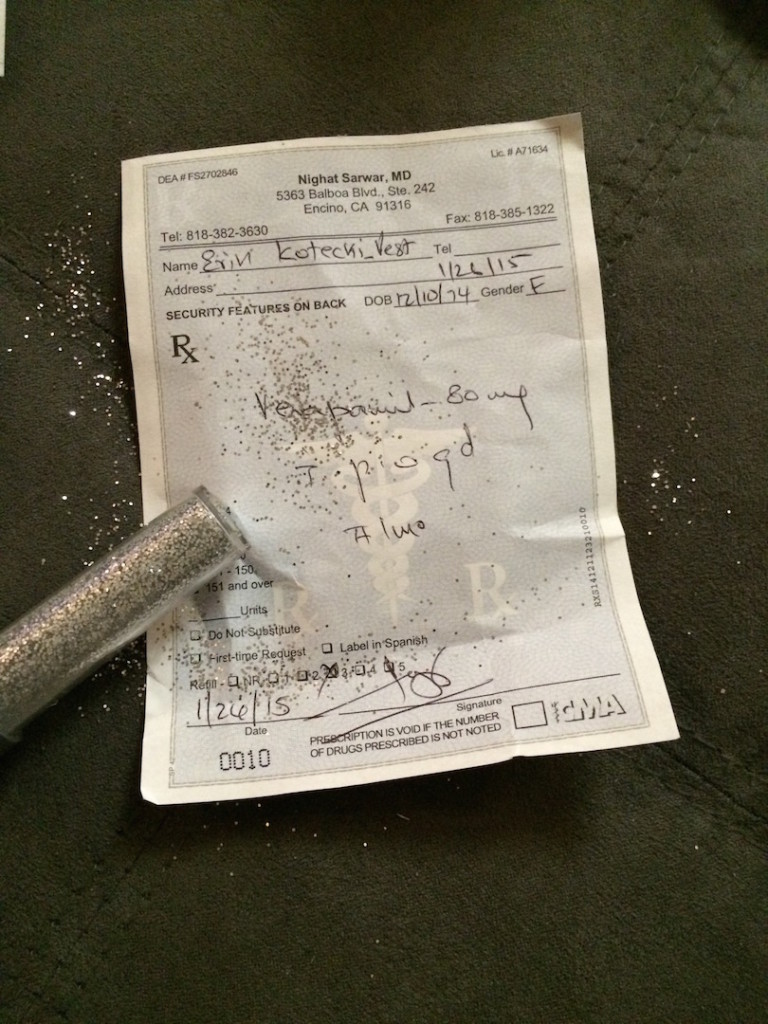 It may not be a glass slipper, but it sure feels like one.