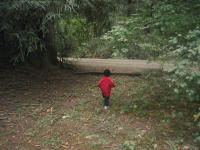 Count Waffles the Terrible bit me. He full on, opened wide in anger, grabbed my arm, and clamped down. I screamed, he cried. Then he took a nap and woke up fresh as a daisy, telling me he loves me and acting as though nothing out of the ordinary happened just a few hours prior.
I realize he's 2 1/2 years old. I realize he's a small pandora's box of emotion and frustration. I realize he's learning to cope with his overwhelming feelings. But he's never, ever been that aggressive. And honestly, it scared the hell out of me. Where does that rage come from? Was naptime really, really, really that horrible of an exile? So, naturally, I blamed myself. I didn't entertain him enough during the first half of the day. I didn't give him a proper lunch. I didn't warn him naptime was near. I didn't…I didn't…I didn't.
When the Count woke up, we had a nice talk about what happened before naptime. I even reminded him that not so long ago (last weekend) a donkey bit HIS arm and he was sad. At first, Count Waffles looked at me like I was a lunatic. I asked him to apologize. He declined. I asked him why he bit me. He laughed and spun the wheels on his matchbox car around and around and around. I could feel myself getting angry again. I wanted my 2 year old son to discuss his emotions with me. And obviously he was on the right track when he looked at me like I was nuts. So I step back. I take a deep breath. I realize what a complete disaster of a mother I'm being and I decide to just let it go. Afterall, he was punished, and it was hours ago.
I took out the dinosaur tattoos. And as I pressed the damp sponge on his arm…he reached over and rubbed my arm. The same arm he bit. "I wuv you Mommy…I hug you Mommy…I wuv you Mommy." The kingdom was peaceful again and I wondered why I ever got so worked up in the first place.