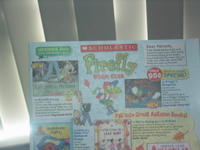 The Count came home from nursery school recently with one of those book flyers. You know what I mean because YOU came home from school with them as a child. We all did. Anyway the Kaiser and I actually got him a few things because its pretty cheap (6 books for $20 for our order) and he can always use more books. Not to mention if I read Clifford's Happy Easter or the Cat in the Hat one more time I just might explode.
So I'm turning in the little form at school and another Mom says (lets call her "just woke up" Mom, since we all have names at the school) "OH MY GOD! Are those due today?????" And she flies into a panic. Tracking down the director of the place to see if they are due today ( I told her they were due tomorrow, but who's gunna believe "Tattoo Mom," right?) and asks every other adult she can find. "Just woke Up" Mom finds out that they are, in fact, due tomorrow so she announces she will make a special trip over to the school (our kids only go two days a week) to drop off her order form. So why the freak out and big fuss, you ask??? I asked my friend (and fellow nursery school Mom) who said, very matter of factually "They make a big deal when the orders come in and the hand them out. You don't want your kid to be the only one in class who gets nothing." So now I'm picturing the Count waiting for his named to be called as they hand out shiney new books and him NOT getting one while everyone else opens their little packages. Devastation. Turns out my friend has been ordering for all her kids for years, even if its a 99-cent book, so they never have to feel left out.
This sucks. Do I now have to order something every single time??? I'm screwed, aren't I?