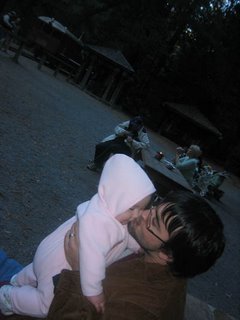 My day with the kids is long. We're not a "Daddy is home at 530pm for dinner" family. I'm not cooking dinner while my husband helps set the table or plays with the kids.
The Kaiser's day begins with an hour long commute when he walks out the door at 845am. And ends when he gets home at 845pm. The kids awake around 730am. And go to sleep around 9pm.
Do the math.
Lately the Kaiser's days at work have been a little shorter, so he's taken to going to the gym (gym…what is this gym you speak of?) a few days a week. Yesterday, I had to ask him to skip the gym and get his ass home. I had enough.
Sick kids for three weeks. Children who won't even let me leave the room. Stuck to me. They are always stuck to me. The Princess likes to pull my hair and chew it. My ends are like hard, globs of goo. All mashed together in clumps with a gel of snot and saliva. The Count has left bruises on my legs and arms, from climbing on me and up me and over me. Mostly to just be near me and touching me. And both have had sleep issues lately. And naptime was my breaking point.
The Count was crying because he wanted me to read another book, and I was pleading with him to just lay down while I got his sister settled. The Princess, meanwhile was screaming because she was tired. She wouldn't nurse quietly, she wanted to be held and walked around the room. So there I was. Standing with one screaming child in my arms. Still in my PJ's at 1pm on a Wednesday. My other child was screaming in bed. And suddenly I just couldn't do it.
Shaking, I put the Princess on the bed. I screamed "SHUT UP!" and walked out of the room and into the hallway where I burst into tears. The screams inside room grew tenfold, because Mommy was gone.
I composed myself. Went back in. And somehow got the Count the bed. Came downstairs with Princess Peanut and told the Kaiser no gym tonight. Come home. Please.
He did. I can't say if he actually did much. My dishes are still dirty. The house is still a mess. BUT…for more than 20 minutes last night, I had an extra hand. The Count didn't have to beg for 15 minutes for someone to play with him. And I wasn't trying to please the entire kingdom by being everything to every child. Relief.
I wish all of you mothers some relief today. Its deserved.