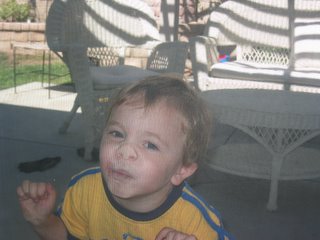 My baby boy seems to be racing to drop the "baby" and stick with just the "boy." And it's killing me. The older he gets, the more "boy" he becomes. I really started noticing it with the whole Lego/gun fiasco and every day since, there seems to be something new.
Apparently he now slides down slides head first. What's the big deal? Right? I'll tell ya' the big deal:

I've never seen him do it.
I was told, by my dear Kaiser husband, that Count Waffles the Terrible not only launches himself, head down, on his belly on the slide…but seems to do so with an expert force. Like he's been doing it all his life.
I've been around his whole life. Aside from the 6 hours a week at school this Fall, I've rarely missed a moment of his life. I gave him his life. He's not allowed to do things that I don't know about.

Did he miss the Queen's memo? I get to see him do things first. I get to tell others what he does and does not do. And if you were to ask me if he has ever gone down a slide head first, I'd flat out tell you "no." In fact, I'd tell you he's seen other kids do it and looked on terrified.
And where does all this head first sliding crap lead too? MORE things I don't know about. Like tongue kissing girls and smoking pot behind bleachers. If I didn't know he was up to this Evil Kenievel Act on the playground, how can I count on my Mom eyes-in-the-back-of-my-head sense when he's stirring up some meth in our garage?
Yeah, yeah. It all starts with going head first down a slide. That slippery slope of a playground slide.