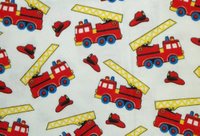 Not really. I just wanted to sing that in my head. Sorry.
Yup. Another wildfire in sunny California. North of Los Angeles. But not our north of Los Angeles. This one is west of us.
All the fire trucks and constant news coverage means our phone rings a lot with worried friends and relatives making sure we're ok.
It also

reminds me of Count Waffle's latest and greatest obsession: sprinklers. Or, to be exact, "pink-or-lores." The kid dreams about spinklers. He talks about them all day long. And he's noticed they not only come in the lawn variety, but the ceiling variety as well. Which means a trip to the grocery store tends to include a 20 minute monologue on every single sprinkler on every single aisle in every single department.
"Oh, Mamma. Look at dat pink-or-lore by da apples."
"Mamma! Mamma! Look at dat pink-or-lore by da fishes! It beautiful!"
Yes, the kid thinks sprinklers are beautiful.
Walks, as of late, take an hour a block because he must (and I really can't emphasize MUST enough here) touch every single sprinkler on every single lawn all the way down the street. Think about how many sprinklers are on your front lawn. Enough said.