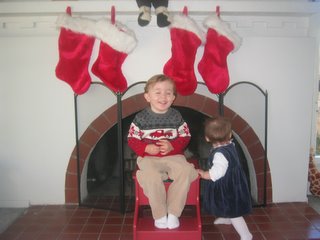 While everyone is rifling through their photos trying to WIN A FREE SHIRT in the Annie's Knight contest, I've been trying to capture that one, precious photo for the Royal Family Holiday Card.
As you can see, its been a less than perfect process. Doing it ourselves was a great idea in theory…the execution has been a little difficult.
I have a cousin back in Michigan who's holiday card I dread. First of all, after four children she's still a size 2. But worse yet-her family is unbelievable beautiful. And every single stinking year they look like the poster children for a GAP ad. I know where she gets her cards printed too, and lets just say if she skipped the photo this year and donated the money, she could feed a small, third-world nation. To top it all off, they are the nicest people you could every hope to be related too. So I can't even bitch about her behind her back.
But what I really want to know is how does she keeps those kids so clean? And combed? And free of peanut butter and jelly stains on the face? All their pleats are intact. No one has a runny nose. Everyone has an award winning smile. And they always look like they are having the time of their life taking the photo.
Look at the first attempt at our photo…my kids aren't even wearing shoes. And I was jumping up and down like a lunatic behind the camera trying to get both kids to A) look at me and B)smile.
Sure, in the end we "got" the shot. But why do I get the feeling it wasn't so hard for my cousin and her clan…
*just a reminder, get your Annie's Knight photo posted by Saturday! And don't forget boys and nonMoms can play too! Play! Win free stuff!