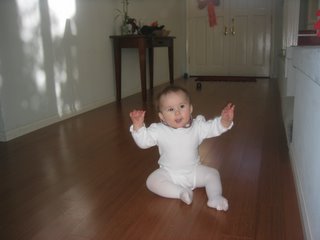 I'm just as obsessed as the next mom, but I refuse to blog about baby poop. Instead, here is list of things OTHER than poop I have found in Princess Peanut's diaper:
Dental floss
"Inspected by #2" sticker
Feathers
Candy wrapper, minus the candy
Banana sticker
Crayon bits
In my defense, I keep a decently clean home. I am attentive, and I catch stuff before it gets into her mouth all the time.
Nothing, and I mean nothing ever came near the Count's mouth when he was this age. In fact, had he ingested just one of the many feathers falling out of our cushions I would have rushed him to the ER.
Is this what its like for the second child? Eh, it came out of her, right?