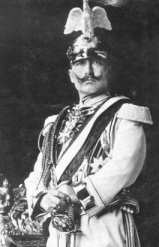 Happy birthday to the Kaiser! We love you! And Dammit, we're having CAKE for breakfast!!! Hahahahahaha.
This is a long standing joke between the Kaiser and I. Back when we had these fairy tale notions of how to raise our children (read: before they were here) he thought they would never, ever eat junk food, or fast food, or anything remotely unhealthy. When I suggested they could eat cake for breakfast (like my family does when there is leftover cake) he about died. So I said…maybe on their birthdays they can have cake for breakfast. The Kaiser stood firm. No cake. Never, ever cake for breakfast.
Well guess what we're waking you up with in 3…2…1…
And for those who don't know. The Kaiser's real name is Aaron. My real name is Erin. My birthday is tomorrow. You still have time to FedEx your gifts.