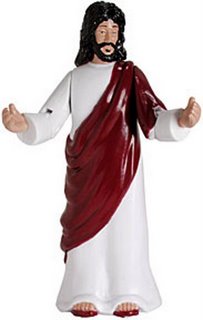 Count Waffle's the Terrible will go to nursery school today and celebrate Baby Cheese's Birthday. At least, that's what he keeps telling me.
We sent him, two days a week, three hours a day, to this particular nursery school because we loved their laid back attitude, great playground, and because I personally know, or know others who can vouch for ALL of the teachers.
We KNEW it was a Christian school, and we discussed how we would handle stuff like this…but we figured he's just 2 1/2 and they really don't mention the Bible or God or Jesus all that much. And any exposure to the subject would either go over his head or would be a nice, diversity lesson for him. (The Kaiser is an atheist, The Queen is somewhat agnostic, recovering Catholic and we're pretty liberal.)
So when the note came home with the cute little Nursery School logo saying the kids would celebrate Christmas with a birthday party, I…ummm…freaked out. Only a little. I held the freak out in pretty good, for the most part.
I calmly approached the Kaiser to tell him what was up. I wanted to check his reaction to see if I was OVER reacting.
He was fine with it. No biggie. Seemed normal to him.
But in my Catholic upbringing, Christmas meant lots of mangers and animals and hay and advent calendars with chocolate and stuff. We never, ever, not even once associated it with a "birthday party." This was a totally foreign concept to me. And the only thing I could associate it with was my crazy ass in laws. My sister-in-law was very excited once when my brother-in-law got to pick up Jerry Falwell from the airport to speak at their seminary. Does that explain enough? If you need more, see THIS POST.
Anyway, the Kaiser had great points about how kids are not going to understand any of the mumbo jumbo I was subjected to as a child and they sure do understand birthday parties. And its not like we'd keep the Count home from school just to avoid Baby Jesus. Totally valid points. And now, I'm fine with it. I have to be. I put him in this school, and something like this was bound to happen. And will happen again. And again.
And the Kaiser was dead on with kids understanding birthday parties. Because the Count is off to school this morning thinking he's going to party all day long…with this guy–which I discovered when he said "Mommy, its baby Cheese's Birthday. At Chuck E Cheese."