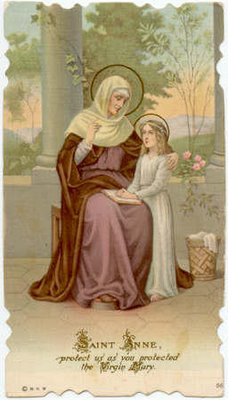 Throughout history, monarchs realized the value and necessity of rewarding gallantry in battle and loyal service, often by awarding gifts of land or money, or some sort of title or sign of merit as a mark of distinction. This was particularly the case when the first sovereign of a new dynasty succeeded to or took the throne and therefore needed to ensure that their supporters' loyalty was rewarded. – Monarchy Today.
In that spirit, I, Queen of Spain, declare open the second "Order of St. Anne" competition. "Annie," as I commonly refer to her, is the patron Saint of mothers, pregnancy, housewives…and less notably, lace makers, Detroit, cabinetmakers, and miners.
Thank you to Dame Ms. Mama for serving as December's winner, with her Mommylicious photo. Since I am otherwise engaged with my nut ball family until 2006, it seemed only fitting that I bring you, my blogging friends, into my own personal circle of hell and pit you against eachother in a battle to the death. Ok, not really death…but maybe you'd all fight to the death over a free t-shirt. You never know. I've seen them shoot crappy free shirts into crowds at sports arenas and grown men have fought over those. And my shirt designs are waaaaay better. So get out your brass knuckles and dump beer over eachother's heads.
As per usual, winner gets a T-shirt from the Queen store. Your choice. Now, on to this month's challenge:
Post about your crazy family. I KNOW I'm not the only one out there. And I'm guessing many of you have some fresh new stories to share since we're knee deep in the craptastic holiday season. Give me a crazy family story. Or photo. Or inkblot. Or all three. Tell me in my comments section when your post is up and I'll go check it out.
Once again, don't make me get all PriceWaterhouseCoopers on your ass with rules. You get the idea. Play fair. I am the Queen. I will pick one entry for whatever reason I see fit. That blog will be named "Annie's Knight" for the month, and featured here on the Queen and her Royal Family in the sidebar for the month of January. And you can pick a title just like Dame Ms. Mama did. Friends and relatives can play. I'm the Queen, I do what I want. Nonbloggers can e-mail me at QueenofSpainblog@yahoo.com and we can work to publish your entry or find you a blog to post on.
You have until the end of 2005…that's December 31st to get your post up. I'll announce a winner on January 1st, 2006.
Now, go make me want to knight you…