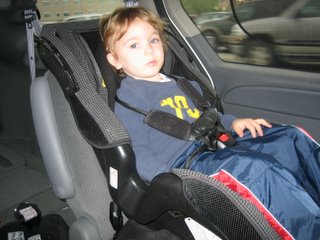 Quick. Where is your frenulum???
I am now an expert in frenulum. Because this cute kid over here tore his. Tore it clean off.
Run your tongue over your top gums. Feel that flappy thing connected to your upper lip? That's a frenulum.
Count Waffle's frenulum is no longer attached. He thought it would be fun to stand on a Leap Frog drum and then fall/jump into an end table. Mouth agape, apparently.
The blood. Dear Ozzy the blood.
The panic. Dear Donna Reed the panic.
Then came the questions. Where is the blood coming from? Is that thing really no longer attached? Is that a big deal? Do I call the doctor? No, the dentist? Do I just go to the ER?
I opted to call my pediatrician who wanted to see him, pronto. They even stayed open during lunch to let us in. Apparently we haven't met our take-kids-to-pediatrician-at-least-5times-a-month quota.
As it turns out, you don't need your frenulum. And most of us did the same thing the Count did as children and it didn't affect us at all.
No stitches.
No acidic or salty food for awhile.
Tylenol.
Popsicles.
And whatever else he wants because he scared the shit out of me and I don't ever want to see blood pouring out of him again. Ever.
…so how many times will we do this again? Do these boys just jump off crap all the time? Girls are better, right? Should I just bring a fruit basket over to my local ER doctors now?
…this is only the beginning…isn't it???