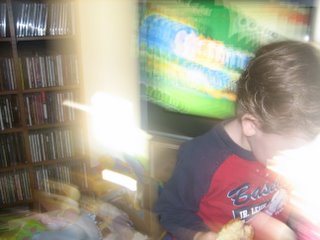 There is something unbelievably sad and selfish that happens to a Mom when she witnesses one of those "growing up" moments. Or two, today…in my case. All we did was play at the park and then get Count Waffles a haircut. That's all we did. Yet somehow, everything has changed.
Count Waffles did his usual thing at the new park here in Suburbia. He ran. And ran. And ran. Then he ran up to some kids and asked, "do you want to play with me?" and promptly ran away. How he will ever make friends this way is beyond me.
The usual playgroup crew was present, plus maybe a half dozen other non-school aged kids with their nannies (we were on the other side of town today…the one where both parents work). A little baby boy, about Princess Peanut's age came crawling over to our little girl and sat. At 9-months they really just sit. So HRH and the boy basically just drooled and stared.
Then came trouble. A friend's 12-month old. Who thought it would be fun to use the butt-heavy babies as bowling pins and plow through the two, knocking both the weebles on their sides.
From NOWHERE, Count Waffles raced over. Scolded the 12-month old with a very, very harsh, monster voice "That's MY sister…no hurt MY sister." And ran away.
I stood there, stunned. Baby still rolling on her back. Wondering who the hell that protective brother might be…and how the hell I could get him to manifest this alter ego more often.
Then came the haircut. Because, you know, Mom hasn't had enough fun for one week. It's standard practice around here that Count Waffles just NOT get haircuts. Trust me, it's much easier this way. There are no tears. No screaming. No globs of hair stuck to a lollipop. But the hair, officially getting caught in his eyes, finally had to be dealt with.
We entered one of those kid salons and I put on my game face. You gotta have a game face for haircuts. I told you, it's a blood sport.
Ready to pry fingers off chairs and strap him down if need be, I announced to the lady at the desk (poor, unsuspecting woman) that Count Waffles the Terrible had arrived.
"Ok, sweetie, we're ready for you…come on back"
Game face. Game face.
"Ok, time to get my hair cut Mom. Good Bye."
Good bye? Uh, wait…I'm going with….uh…good bye…umm…
Count Waffles marched to the Jeep haircut chair. Sat down. Played with a basket of toys while they clipped away.
I sat in a chair.
Feeling totally obsolete.