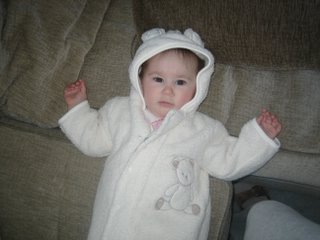 You may have a hard time telling in that photo, but Her Royal Highness Princess Peanut is scowling at me. She's pissed off because of the tooth that won't cut. And, possibly, because I stuck her in this ridiculous, fuzzy, bear coat/snowsuit. Not that it snows around here, but she doesn't know that. And it was cold (like, 50's…shut up, that's cold for Southern California) and we were going outside.
Her left top tooth is in. Her right top tooth, however, just seems to be waiting for the right moment (I'm guessing 2am, maybe 4am) to poke on through. This has put our little peanut in a rather foul mood for, oh, a month. Ok, maybe more like a week…but whatever.
The Highland teething tablets are not working. The infant motrin is not working. The Highland gel is not working. The only things that seemingly soothes this savage beast is my left boob. You read that right. The LEFT boob. The right one, apparently, does not rub the right spot.
So Mom's left breast is mangled. It's literally being gnawed on 24-7. It has scratch marks, bite marks, and even a cut. My right boob, meanwhile, is deflated from all the non-use.
HRH Princess Peanut also seems to think that randomly waking, oh, 40 times a night is the correct protocol for her current state of discomfort. And she doesn't just fuss a little and groggily grope for boob. No, no, not our little sunshine. She prefers to go from sound asleep to ear-piercing scream in no time flat. No warning. No slight awakening movements. Just sit straight up and pulls you out of your only REM cycle of the night with, what you're sure, is the sound of a baby being mauled by an animal.
As you can imagine, we're all a bit warn out from the drama. If you wouldn't mind a little blogosphere chant…say it with me now…"CUT THAT TOOTH! CUT THAT TOOTH! CUT THAT TOOTH!" Thank you.