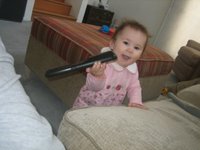 It is a girl day around here.
Princess Peanut turns 10-months old today. She heralded the milestone by somehow giving me my period back and reminding me that those pregnancy 'roids never really go away.
Thinking of you, I grabbed the hubby's electric razor in the shower this weekend. I have three gashes on my whoo-ha. I refused the toddler's insistence that I "put an Elmo bandaid on your ba-gyna boo boo, Mommy?"
So let's round out being totally girly today by going over to the BRAND NEW BLOGHER site and giving everyone some love.
You'll find me under Politics and News, and you might find some of yourselves blogrolled already…I started to add you all to the list over there and got sidetracked with 'roids, tampons, and ba-gyna boo boos. So go register and blogroll yourselves.
And bask in the wonder that is woman.