The Kaiser and I have an agreement. But looking back upon making this agreement, I'm pretty sure I was high. Or drunk. Or crazy. And since it's been established that I'm crazy, I think I get a chance to renegotiate said agreement. I also think that because parenthood is nothing like advertised, I get to renegotiate said agreement.
AND, and, and…I think this will help in my postpartum state.
Confused???
Ok, here goes. And don't judge me until you get all the facts.
I want a dog. I want a dog like I want air. I want a dog. I want a dog. I want a dog.
But you see, my blogging friends. I can't have a dog. Because many, many years ago when I, also, wanted a dog…the Kaiser said "we can have kids or you can have a dog."
Well duh, I picked the kids.
And now that I'm postpartum crazy. Pulling my hair out. Yelling at small people all day. Losing my mind with worry…
I've changed my mind. Too late you say? Well, screw you. I want a dog. And I want one of these: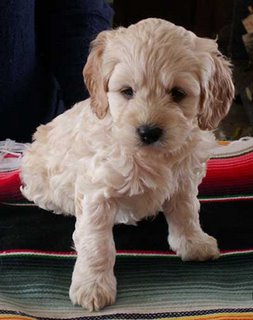 That's a cockapoo. And I had one while growing up. Her name was Gidget. And now I want one for my kids. But you see, I can't talk about this at home, because the Kaiser and I agreed it would be unfair to get the kids on my little dog bandwagon. Because I would be manipulating said kids, and he would be the bad guy.
I don't want him to be the bad guy.
So I'm going to whine to you, dear internet. Because I can't whine to the short, sticky, people who live with me. And because no matter how much I ask and beg and plead and give sexual favors (and I would totally sign a legal document promising sexual favors to the Kaiser for said dog)..I will never get this dog.
You know dogs can be soothing for their owners? Wouldn't it be nice if I were soothed? And I would have to go on walks…which is good for my mental health. And I could really use some help with my mental health.
Now, the Kaiser may, or may not (depending on how much he ignores this post) comment to you, dear readers, that I've slacked in taking care of the one animal I do have in this house. But in my defense, I had a medical condition that caused me to not clean. (oooh…see how I used that there?) and now that I'm getting a little better, the cat is totally taken care of. Totally. Really. I swear.
So, can someone get a petition going or something? Maybe some sort of prescription from a doctor saying I HAVE to have a dog? Anyone?