I only caught a little, little bit of the Grammy's last night. I admit I love award shows. I love them, now that I no longer have to work them. I promise you, the red carpet is your very worst day at work times 10. Even if Tom Hanks knows your name. Just trust me on this.
Of course, the part of the show I did catch last night was Bono kissing Gwen Stefani's baby bump. Adorable. And maddening all at the same time.
Never in my life has pregnancy looked so hip. And sexy. And cute.
Who looks like that while pregnant? Spare me the team of stylists, hairdressers, make up people excuse. I went and got stuff done while I was pregnant. I never, never looked like that.


I remember when I was pregnant with Count Waffles, and ready to pop. I was nearly 200lbs, miserable and looking like trailer trash. There really is no other way to describe it. No clothing fit. So I was mostly in one pair of fire engine red pj's. Whooo sexy. I was getting those hormonal zits. I had read some article on hair dye seeping into my scalp, getting into my blood stream, and making its way to Count Waffles brain for a life of retardhyermyglioitis or something, therefore dying my hair was out of the question. So I wa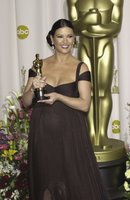 s this dirty blonde/brown stringy mass of yarn on my head. Not pretty. Not sexy. Really not rock star. And for a kick in my ass, Catherine Zeta Jones was pregnant and on the red carpet back then for the Oscars.
Seriously…look at that photo. Beautiful. She fucking glows, people.
So with Princess Peanut I tried to step it up a bit. I wasn't afraid to dye my hair. I wasn't afraid to get a few more maternity shirts.
In the end: same result. I'm looking like I just stepped out of Wal-Mart with my miracle whip and 6-pack.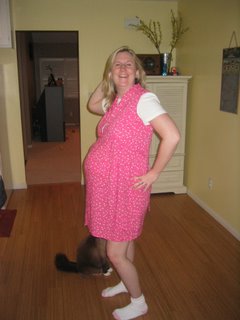 To review. Don't watch award shows.